ANA SHARES HOW HER COOKING IS INSPIRED BY HER GRANDMOTHER AND PRECIOUS CHILDHOOD AND TRAVEL MEMORIES.
Ana Rusu grew up in a small town in Romania, surrounded by natural beauty and an abundant garden where she learnt from an early age to eat seasonally and how wonderful natural food with ripe ingredients can taste.
Her grandmother was naturally talented in the kitchen and her biggest inspiration. Ana is a plant based chef, food photographer, videographer, recipe developer and food stylist. She creates nutritious, simple and flavourful recipes that are always inspired by the taste of her childhood memories.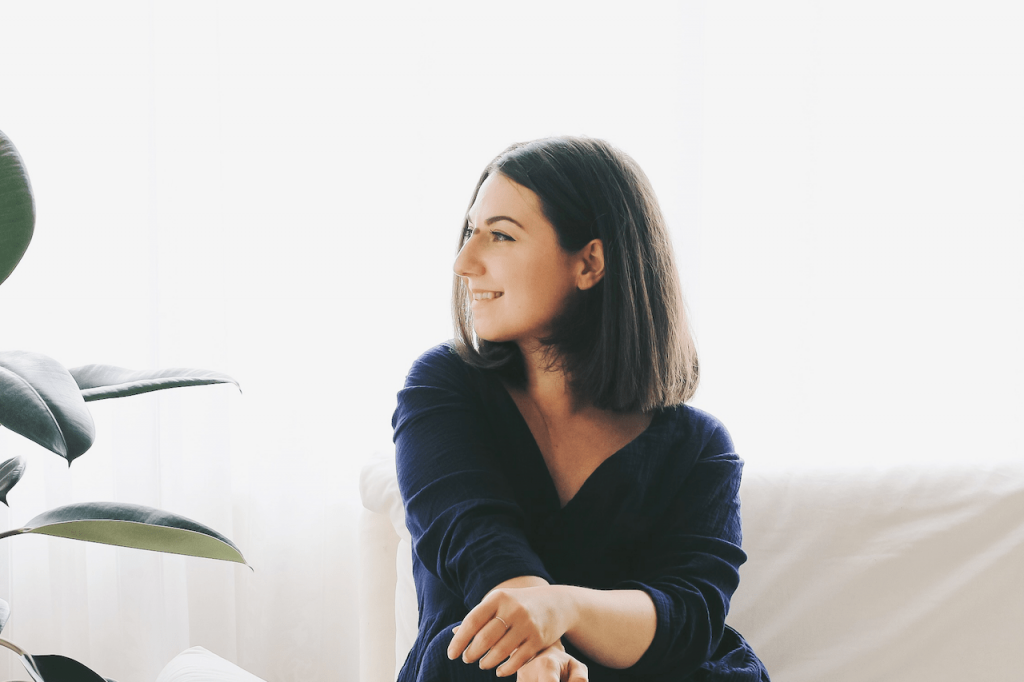 You write that your recipes are largely inspired by childhood memories. Can you please share some of those and what your childhood was like?
I had a vibrant childhood and I was a curious and creative kid.
Since my parents were entrepreneurs, I got to spend a lot of time alongside my grandmother.
She sensed my pragmatic side and welcomed me in the kitchen, where she spent all of her time. I helped her by doing the dishes, kneading, finding ingredients, and a great amount of time I was just watching her.
Sometimes I catch myself remembering bits​—​a condiment she would add, her words describing a flavour, a cooking technique gesture. I learned a lot from watching her.
It was a quiet summer afternoon during holidays and my cousin came to visit on his bike.
When he arrived, he was all sweaty and tired, so my grandmother put us both at the table outside, on the porch swing. She then brought us a hot macaroni and cheese paired with super cold glasses of milk.
I vividly remember taking a good bite of the salty cheese macaroni, while looking for the glass to sip from the ice cold fresh milk. And I just got goosebumps remembering those contrasting temperatures and textures, the smell of cheese and the sweet milk.
A lot of my recipes come from those moments.
They emulate certain tastes or feelings.
And I love it when I can trace back textures, pairings or flavours. I think these memories encouraged me to keep learning about food, so I never stopped being curious.
Please share your journey towards plant based living?
I switched to a plant based lifestyle 8 years ago, when I reached a personal limit: I was young but didn't feel like it.
I was struggling with severe migraines and after a detailed medical control, I was put on indeterminate medication, which I strongly disapproved.
Around that time, I stumbled upon a nutrition book that talked about vegetarian, raw, and plant based diets and I quickly became interested in the subject. As I kept reading, I changed my diet from meat and dairy based to a raw vegan diet, overnight. It was quite extreme, but learning so much about the health benefits of this lifestyle, this came natural. I began to feel well, active, and energetic and my migraines completely vanished.
Because I grew up around good food, it was also natural for me to create and find flavours in such a new and restricted cuisine. The next step was reading more about food, world cuisines, and culinary education.
And cooking a lot!
Can you name some people/teachers who have had the greatest impact on your journey?
Definitely, my grandmother. I can't emphasize this enough.
When I'm cooking, it's almost like I'm transported inside her mind and know exactly what she would do, how she would cook…
Also, T. Colin Campbell was among the first who taught me about nutrition and I was lucky to stumble upon his books.
Harold McGee taught me about history, etymology, science, and the process of gastronomy. Books like The Silver Spoon​ ​ taught me about the beauty and simplicity of italian cooking, which is definitely my favourite cuisine.
I followed a complex course of Mathew Kenney's academy and this was a point in my career that has sharpened my culinary and styling skills.
Travel itself is another great teacher for me!
What is your personal philosophy when creating recipes?
Even though taste is something personal, influenced by our background and experiences, I'm very critical when it comes to good flavours.
I like to focus on healthy recipes that don't betray good taste and use non invasive cooking techniques.
I use condiments to bring out the best notes in a product/dish and I prefer simple, natural flavours that are balanced (to perfection) with an inclination to the acidic flavour profile.
Please tell us more about your photography – where did you study, what you love about it, photographers that inspire you and your visual aesthetic which is beautiful
Thank you! I
have an art background, indeed. I went to an art highschool followed by Photography and Videography studies at the university and Architecture studies in London but didn't get to complete my degree.
During my last years of Uni, I started working in professional kitchens.
That was the moment in my life where I felt complete, because I was finally able to combine my 'urge' for arts and crafts and working with my hands, with my culinary passion and nutrition knowledge.
I learned a lot from food photographers such as Vanessa K. Ress, Aubrie Pick, Matt Russel, Jason Lowe, but also from cookbook imagery and great foodies on Instagram.
Where are some of your favourite travel destinations and what's on the top of your list to visit?
What a hard question!
I would get on a plane in an instant and travel anywhere.
But on top of my list is always Italy.
I adore the south and Sicily especially. I've never been to the Nordic countries, so I try to make that a priority now. Also, I plan on doing a long food trip both to France and Spain but with the current situation I can only research more and make infinite lists of places that I'd like to see 🙂
What are the top 3 things in your opinion that people can change right now to move towards a happier and healthier life?
I think the first thing should be prioritizing our health and respecting ourselves, without falling into traps.
Self care can become obsessive if treated irrationally. Rather, listening carefully to our bodies to learn our limits can actually change so much in our relationship with the material and spiritual world.
I think less is more in the long run, but treating and indulging ourselves whenever we feel like it, can​ do magic, too! And we should all be aware of the reality of climate change, stay informed, and act accordingly.
What message would you like to share with our beautiful plant based sisters around the world?
Everything is a (sustained) process.
Above all, we should always love and respect ourselves, the ones around us, and this beautiful planet.
And a big thank you to all plant based sisters for spreading kindness, love and knowledge and for being so inspiring!
Ana's favorites
Favourite plant based breakfast?
Green salads with yogurt based dressings. And sourdough toasts!
Plant based comfort food?
Traditional 'placinte' which is a flatbread stuffed with cabbage​ and pasta, especially white​ sauce-based and stuffed, like ravioli.
Plant based treat?
Chocolate truffles and caramel desserts.
Plant based foods I can't live without
That's easy! Lemons, sourdough bread, sauerkraut, and tahini 🙂
The next plant based recipe I'd like to try is
Peach and matcha panna cotta. I actually wrote 3 different recipes for it and didn't have the time to test it so far.
A plant based eatery anywhere in the world I'd love to eat at
Can't name one, but I'd love to try the plant based pastries in Paris and I dream so badly of visiting Akorn restaurant in Bath.
A plant based chef I'd love to meet and share a meal with
Nina Olsson, from Nourish Atelier. I really admire her cooking style, and I often feel that we share quite a similar taste, when seeing her recipes.